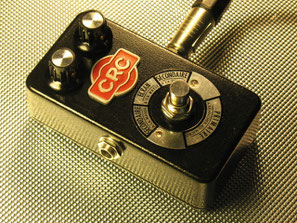 C'est un clone de DOD Overdrive Preamp 250, dans sa version RI de 1995, au son plus bluesy, plus soft que la version originale. Parfait pour servir de booster ou pour disposer d'un son d'overdrive naturel, c'est à dire respectant le timbre de la guitare et le jeu du guitariste.
This is a clone of the DOD Overdrive Preamp 250 1995 RI version, more bluesy and softer than the 1st version. A natural sounding overdrive or booster, which respects the tone of the guitar and the player's touch.
---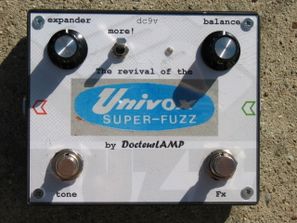 C'est un clone de la fameuse UNIVOX Super-Fuzz de 1968, rendue célèbre entre autres par le "Live at Leeds" des Who. Une Fuzz-Octaver, au gain boostable (more !), transistors triés en gain, avec son redoutable filtre "mid-scoop" inversible en "mid-peak", qui est à l'origine du son Métal bien connu aujourd'hui. l'octaver est permanent et plus discret que celui de la Foxx Tone Machine, ce qui donne un jeu en accord dévastateur mais intéressant.
Here's a modified clone of the famous 1968 UNIVOX Super-Fuzz, famed by the "Live at Leeds" by the Who. Another Fuzz-Octaver (non defeatable), with boostable gain (more!) and its formidable "mid-scoop" filter, switchable to "mid-peak", originating the well-known Metal guitar sound of today. The octaver being lighter, the play in chords is devastating but interesting.
---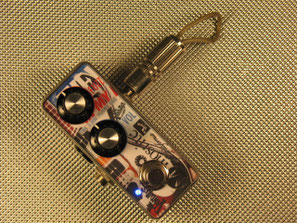 C'est une version ultra-compacte, en boîtier Hammond 1590A, de la MOSRITE FuzzRite "The Ventures Model", qui donne le son Fuzz entendu sur leur fameux titre "The 2000 Pound Bee" (1962), réputé le premier enregistrement à faire usage d'une Fuzz commerciale. Malgré sa taille, elle comporte tous les réglages nécessaire, ainsi que sa pile d'alimentation (A123 de 12V) !
This is a very compact (Hammond 1590A box) version of the MOSRITE FuzzRite "The Ventures Model", giving the Fuzz tone heard on their famous tune "The 2000 Pound Bee" (1962), reputed to be the 1st recording unsing a commercial Fuzz. Despite its compactness, this pedal is a standalone unit, including its battery (A123 / 12V) and all the requested features you would expect from a larger model !
---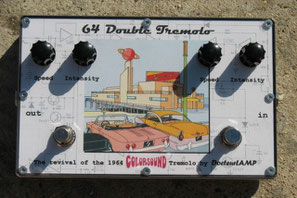 Basé sur le Colorsound Tremolo de la fin des 60's mais amélioré (plus silencieux), il dispose d'une double commande footswitchable, donnant donc deux réglages de vitesse et d' amplitude indépendants et ajustables.
Based on the 60's Colorsound Tremolo but improved (about quietness), it features a footswitchable set of independent speed and depth controls, fully adjustable.
---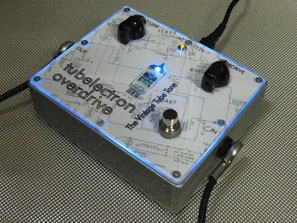 Similaire au HCTO, à tubes sous haute tension également, il donne un son plus Bluesy.
Similar to our HCTO, also with tube circuit and high plate voltage, its tone is more Bluesy.
---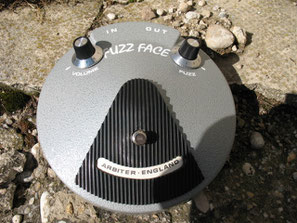 Il s'agit d'une réplique la plus exacte possible de la FuzzFace Arbiter 1966 originale. Le boîtier "Hammered Grey" est celui d'une Fuzz Face Arbiter England Cornell UK. Les composants sont des NOS d'époque, triés au plus près des specs FuzzFace connues comme étant idéales.
This is a 1966 Original FuzzFace replica, built in a "Hammered Gray" die-cast casing coming from an Arbiter England Cornell UK model.
The components are NOS from the era, and selected to match the known-as-ideal FuzzFace specs.
---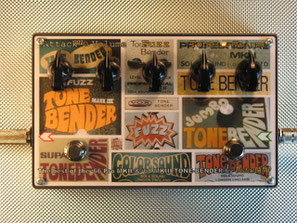 Le DOUBLE TONE BENDER est la réunion dans une même pédale du TONE BENDER MKIII 3-Knobs et du TONE BENDER Professional MKII, qui sont les deux modèles les plus connus de TONE BENDER.
Construction turret board, avec transistors Ge NOS triés, contrôles séparés, FSW pour passer de l'un à l'autre en cours de jeu...
Dans l'ordre des samples : MKIII puis PMKII.
The DOUBLE TONE BENDER is a combination of the TONE BENDER MKIII 3-Knobs and the TONE BENDER Professional MKII in the same stompbox. These are the most renowned TONE BENDERS.

Turret board construction, NOS Ge selected transistors, separate controls, FSW for instant selection...
Samples in following order : MKIII then PMKII.
---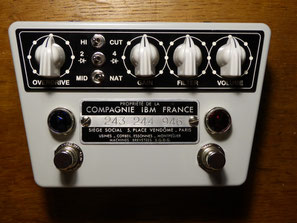 C'est la combinaison du F.L. MOSELEY CO. et d'une PROCO RAT 1981 Rev. b. dans un même boîtier, soit un excellent "smooth" overdrive et une distortion au son légendaire... Les deux effets peuvent être activés en même temps, ce qui offre une pédale à 3 canaux qui déchire !
This is the combination in a same box of the F.L. MOSELEY and a clone of a PROCO RAT 1981 Rev. b. At a flick of a FSW, you have a premium "smooth" overdrive and a legendary distortion... Both FX can be engaged simultaneously, offering a 3 - channel facility, for a killing sound !